Entrepreneurship needs passion; to challenge the status quo, to take risks and to make a difference.  But how about those who combine this passion of bringing about a change with a higher purpose? Those, who transform their start-ups into a force for good, a business that delivers not just economic benefits but also social value. Here are 6 entrepreneurs who have done just that and in the process have changed the face of entrepreneurship and modern business forever.
1.      Sir Richard Branson
He is a high school drop-out and owner of Virgin Group of more than 400 companies.  Branson is a force to be reckoned with when it comes to combining business value with social value. He is one of the most generous celebrities        and has contributed to social causes from resolving global conflicts to supporting entrepreneurship to tacking on elimination of nuclear weapons. Not to mention the empire that he has built is worth more than 42 million dollars.
2.      Howard Schultz
Founder of Starbucks is known for his open way of dealing with his staff and his focus on creating value throughout the value chain. Starbucks coffeehouses have pictures of farmers with their hands in bags of coffee beans and captions outlining fair-trade-certified ingredients, community-based development projects, and charitable contributions. Starbucks took in more than almost 12 billion dollars in revenue last year, which is testament to the efficacy of these practices.
3.      Anita Roddick
A human rights activist and environmental campaigner, was also founder of The Body Shop, a company that shaped ethical consumerism through its focus on humane cosmetics, fair trade, transparency and community development. Today, Body Shop is a leading cosmetics company with 2,500 stores in over 60 markets worldwide. Although she passed away in 2007, she has left behind a legacy of ethical business practices.
4.      Jamie Oliver:
James Trevor "Jamie" Oliver, is an English chef, restaurateur and media personality, well known for his cooking shows and media appearances but more recently for his campaign for healthy eating and elimination of processed foods in schools. In 2005, Jamie was awarded the  most Generous Celebrity – Judge's special prize at The Beacon Fellowship Awards. Jamie is using his voice and presence to tackle an issue that plagues many countries and is making his brand grow profitably too.
5.      Professor Muhammad Yunus: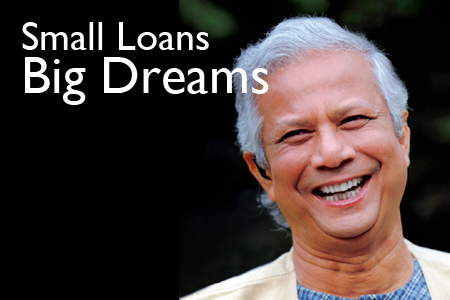 He started the Grameen Bank in Bangladesh, providing micro financing to local people after witnessing first-hand how small loans can empower people and ultimately eradicate poverty. Since then, the Grameen Bank model has been replicated in over 100 countries and has helped millions of families gain financial freedom. Dr. Yunus received the Noble Peace Prize in 2006 for being a "Banker to the Poor."
6.      Blake Mycoskie:
He is the "Chief Shoe Giver" at TOMS shoes, a business that donates a pair of shoes to a child in a third world country for every pair that is bought. The One for One shoe movement, has helped Mycoskie create an empire at 33! As of April 2010, TOMS has given over 600,000 pairs of new shoes to children in need through giving partners around the world. In 2007, only a year after its beginning, TOMS was honoured with the prestigious People's Design Award from the Cooper-Hewitt National Design Museum, Smithsonian Institution.